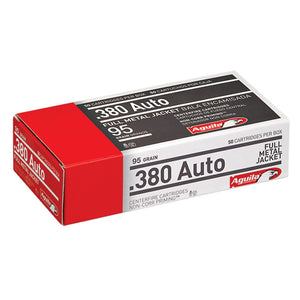 Details
Aguila 1E802110 Pistol 380 ACP 95 Gr FMJ 50 Rd
Brand Aguila 
Category Centerfire Handgun Rounds 
Caliber 380 ACP 
Model Pistol 
Bullet Weight 95 gr 
Rounds Per Box 50 
Casing Material Brass 
Application Target 
Boxes Per Case 20 
Bullet Type Full Metal Jacket (FMJ) 
Muzzle Energy 188 ft lbs 
Muzzle Velocity 945 fps 

Hits dead center. Cycles flawlessly. Perfect for target shooting, this popular round features low recoil and our Non-Corr Priming for reliable ignition no matter the weather conditions thrown its way.