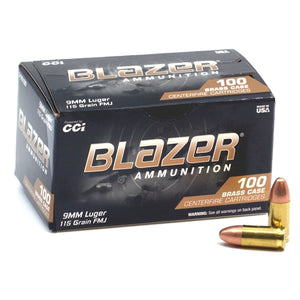 CCI Blazer Brass 9mm Luger Ammo 115 Grain Full Metal Jacket 100 Pack review
offers
the following information;  The trusted CCI brand has gone above and beyond with the Blazer Brass line!Blazer Brass brings shooters the reliability and quality of ammunition built to SAAMI standards, and is backed by stringent ISO certified quality systems. Blazer Brass is loaded in reloadable brass cases for added value. Standard Boxer-type primers and primer pockets mean you can reload Blazer Brass cases just like any other case. Blazer Brass is loaded with a protected-base FMJ bullet. CCI primers insure reliable ignition, and we load clean-burning propellants.
In addition to being one of the most popular calibers in the world, 9mm ammo caliber was just adopted by the FBI. Previously they've used the 40 S&W, now the switch has been made to 9mm ammo. Generally speaking, Law Enforcement Agencies such as FBI and others demand the best and only the best, therefore it is safe to say that if you shoot and own a 9mm weapon, you've made the right choice picking out your firearm. Thus, whether you choose to shot CCI Blazer 9mm ammo or something that is more expensive and brass cased, you will find it rewarding and fun. CCI Blazer Brass 9mm Luger is a new production, non-corrosive, re-loadable ammunition with boxer primers and brass casing. This CCI Blazer Brass 9mm Luger ammo is packaged in boxes of 100 rounds and case of 500 rounds.
Order a case of CCI Blazer Brass 9mm ammo get free shipping. 9mm Luger
ammo features clean-burning propellants for cleaner use.

CCI 9mm Luger bullets are non-corrosive and have Sure-fire CCI priming.

CCI Blazer Brass 9mm Luger ammo is an excellent choice for target practice or plinking.


| | |
| --- | --- |
| MPN | 51991BB |
| UPC | |
| Manufacturer | CCI AMMO |
| Caliber | 9MM LUGER AMMO |
| Bullet Type | Full Metal Jacket |
| Muzzle Energy | 323 ft. lbs |
| Muzzle Velocity | 1145 fps |
| Primer | Boxer |
| Casing | Brass Casing |
| Ammo Rating | Target Shooting, Training 9mm Luger Ammo |