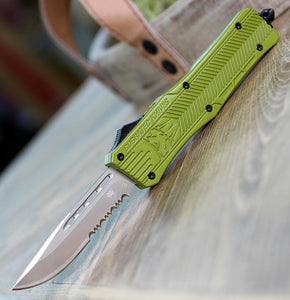 CobraTec Knives is based in Waxahachie, Texas. They create high quality knives for a lifetime of usage. From your trusty pocket knife that you carry everyday, to field dressing your game, or at your favorite hunting location, this knife will keep up with you.
Their knives are extremely safe to operate and use. CobraTec OTF knives come with a built-in safety feature that will not allow the blade to fully deploy if anything is obstructing its path. Once in 'safety mode' the blade will need to be reset by pulling the blade all the way into its locked position making it fully functional again.
The medium CTK-1 OD Green starts from a high-grade aluminum alloy handle and features a D2 steel blade.
All knives are dual action (blade deployment and retraction are powered by pushing or pulling the same control switch.
This knife features a pocket clip, a glass breaker for emergencies and includes a nylon sheath.
Specifications:
Overall Length: 8.0in w/Glass Breaker
Blade Length: 3.0in
Closed Length: 5.0in
Blade Type: Serrated
Blade Style: 
Drop Point

Blade Steel: D2
Handle Material: High-grade aluminum alloy
Dual Action OTF
weight: 6.7oz
D2 STEEL - PROVEN
D2 steel is an air hardening, high-carbon, high-chromium, tool steel. It has high wear and abrasion resistant properties. It is heat treatable and will offer a hardness in the range 55-62 HRC. D2 steel's high chromium content gives it mild corrosion resisting properties in the hardened condition.