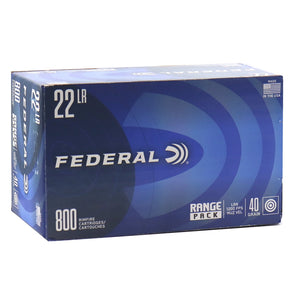 Federal 22 Long Rifle Ammo 40 Grain Lead Round Nose Range Pack 800 Rounds ammo review

 
offers the following information; For nearly a century Federal Ammunition has put its focus on manufacturing quality products with cutting edge technology. This dedication to excellence has given Federal a competitive edge as an ammunition technology giant. Today the company is well known for producing high grade centerfire, rimfire, and shotshell ammunition that shooters everywhere know and trust.
Great multi purpose rimfire load for target, field or plinking. Designed for reliability in semi autos and accuracy.
This solid bullet is perfect for all your training and hunting needs. Federal 22 LR was manufactured recently and brand new. 22 LR ammo is new production ammo and non-corrosive. Packaged in bulk 22 LR packs that hold 800 rounds per box and 3200 round of 22 LR ammo per case. With the high volume shooter in mind, Federal manufacturers with 22 Long Rifle ammunition relatively inexpensive, meaning it is often considered to be a "good value" 22 LR ammunition round over all. Furthermore, the ammunition has been tested. 22 LR ammo offers match grade accuracy, while feeding without any issues in your .22 loaders.
| | |
| --- | --- |
| MPN | 729B800 |
| UPC | 604544668933 |
| Manufacturer | FEDERAL AMMO |
| Caliber | 22 LONG RIFLE AMMO |
| Bullet Type | Lead Round Nose |
| Muzzle Velocity | 1200 fps |
| Muzzle Energy | ft. lbs |
| Primer | Boxer |
| Casing | Brass Casing |
| Ammo Rating | Target Shooting, Training, & Practice 22 Long Rifle Ammo |