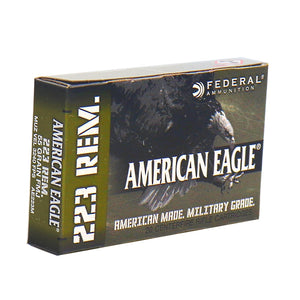 Federal American Eagle 223 Remington Ammo 55 Grain Full Metal Jacket ammo review
offers the following information;  This Federal 223 Remington ammo features a lead core 55 Grain Full Metal Jacket bullet that is non magnetic, non corrosive boxer primer and brand new virgin brass casing that can be reloaded up to seven times for those high volume 223 ammo shooters that love to reload their 223 Remington ammunition. The Federal American Eagle 223BK Bulk ammo offers muzzle velocity of 3240 feet per second and muzzle energy of 1282 ft lbs.  Federal 223 Remington Full Metal Jacket ammunition is a product from the American Eagle line of ammunition. American Eagle ammunition is marketed as precision practice ammunition, and though it is inexpensive, it offers an uncanny accuracy on par with the more expensive brands. Like all Federal ammunition, Federal AE223 .223 ammunition is manufactured at the Lake City Army Ammunition Plant (LCAAP) in Independence, Missouri, which is an interesting aspect of the ammunition in itself. LCAAP is a government-owned, contractor-operated munitions facility that was originally established in 1941 for the manufacture and testing of small arms ammunition for the United States Army. Since 2001, it has been operated by Alliant Techsystems and is the largest manufacturer of small arms ammunition for the U.S. Army
Like all Federal ammunition, Federal AE223 .223 ammunition is manufactured at the Lake City Army Ammunition Plant (LCAAP) in Independence, Missouri.

American Eagle ammunition is marketed as precision practice ammunition, and though it is inexpensive, it offers an uncanny accuracy on par with the more expensive brands.

This is brand new virgin brass casing that can be reloaded up to seven times for those high volume 223 ammo shooters .


| | |
| --- | --- |
| MPN | AE223M |
| UPC | |
| Manufacturer | FEDERAL AMMO  |
| Caliber | 223 Remington  |
| Bullet Type | Full Metal Jacket Boat Tail |
| Muzzle Velocity | 3240 fps |
| Muzzle Energy | 1282 ft. lbs. |
| Primer | Boxer |
| Casing | Brass Casing |
| Ammo Rating | Target, Training & Practice 223 Remington Ammo |