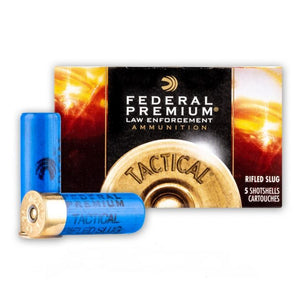 Federal Law Enforcement 12 Gauge Ammo 2-3/4" Hydra-Shok Rifled Slug ammo review
offers the following information; For nearly a century Federal Ammunition has put its focus on manufacturing quality products with cutting edge technology. This dedication to excellence has given Federal a competitive edge as an ammunition technology giant. Today the company is well known for producing high grade centerfire, rimfire, and shotshell ammunition that shooters everywhere know and trust. Federal's Law Enforcement 12 Ga rifled slugs are loaded with their premium line of Hydra-Shok 1 ounce slugs that deliver exceptional performance. Designed for Law Enforcement and occasionally made available to the general public through police trade-ins. The Hydra-Shok slug excels in the rigid FBI test protocols providing ideal penetration and expansion. This low recoil slug is designed to reduce felt recoil reducing shooter shoulder fatigue. This allows for better, more consistent training which will yield better results one day when your life is on the line.
LE 12 Gauge makes use of Federal's unique 1 ounce Hydra-Shok slug which surpasses all FBI test standards and allows for superior expansion with the right amount of penetration.

Federal Law Enforcement 12 Gauge has a muzzle velocity of 1300 feet per second and a muzzle energy of 1655 ft lbs.

Law Enforcement ammo is designed with law enforcement in mind but makes a great personal protection option for private citizens as well, whether it be to defend your home or as a concealed carry firearm.

| | |
| --- | --- |
| MPN | LE127RS |
| UPC | |
| Manufacturer | Federal ammo  |
| Caliber | 12 Gauge  |
| Bullet Type | Hydra-Shok Rifled Slug |
| Muzzle Velocity | 1300 fps |
| Muzzle Energy | 1655 ft. lbs |
| Primer | Boxer |
| Casing | Brass Casing |
| Ammo Rating | Personal Protection 12 Gauge Ammo |