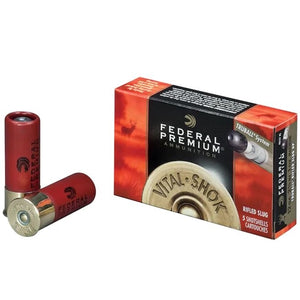 Federal Vital-Shok 12 Gauge Ammo 2-3/4" 1oz TruBall HP Rifled Slug review
 offers the following information; For nearly a century Federal Ammunition has put its focus on manufacturing quality products with cutting edge technology. This dedication to excellence has given Federal a competitive edge as an ammunition technology giant. Today the company is well known for producing high grade centerfire, rimfire, and shotshell ammunition that shooters everywhere know and trust.
Forget what you think you know about smoothbore slug gun accuracy. The Federal Premium® TruBall® is the most consistent smoothbore slug on the market, capable of groups as tight as 1.4 inch at 50 yards.

The TruBall system locks the components together, centering and pushing the rifled slug out of the barrel.
This promotes clean separation of components after muzzle exit to ensure the best accuracy.
| | |
| --- | --- |
| MPN | PB127 RS |
| UPC | 604544642841 |
| Manufacturer | FEDERAL AMMO |
| Caliber | 12 GAUGE 2 3/4" AMMO |
| Bullet Type | Hollow Point Slug |
| Muzzle Velocity | 1600 fps |
| Muzzle Energy | ft. lbs. |
| Primer | Shotgun Primer |
| Casing | Shotgun Casing |
| Ammo Rating | Hunting 12 Gauge Ammo |