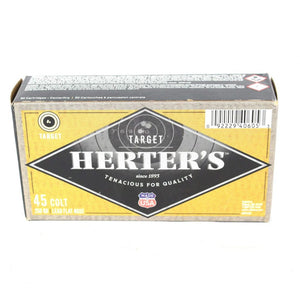 Quality powders, bullets, primers
• Reloadable brass cases
• Consistent accuracy
• Reliable feeding
• Affordable
Herter's® Target Handgun Ammo is loaded with high-quality powders, bullets, primers and reloadable brass cases ensure the performance, reliable feeding and consistent accuracy serious shooters demand. Herter's Target Handgun Ammo offers shooters quality ammunition at affordable prices. Made in USA. 50 rounds per box.