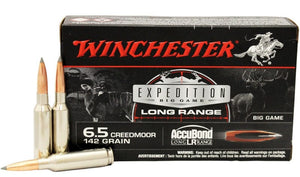 Winchester 6.5 Creedoor Features
The knockdown power of Expedition Big Game Long Range is centered around Accubond® LR bullet technology. It features a polymer tip and bonded alloy lead core. Upon impact, the Accubond LR bullet delivers controlled expansion and deep penetration. The lineup also features nickel-plated shell cases to go along with the Nosler® bullet technology. Expedition Big Game Long Range comes 20 rounds to a box.
Expedition Big Game Long Range is the ideal ammunition for hunting big game around the world. It delivers a high ballistic coefficient for flat-shooting, pin-point accuracy at long ranges and devastating performance due to deep penetration from the bonded-bullet construction.
6.5 Creedmoor Expedition Big Game Specs
Cartridge: 6.5 Creedmoor
Weight: 142 Grains
Bullet Coefficient: .719
Muzzle Velocity: 2700
Muzzle Energy: 2298 Ft.-Lbs.
Rounds per Box: 20