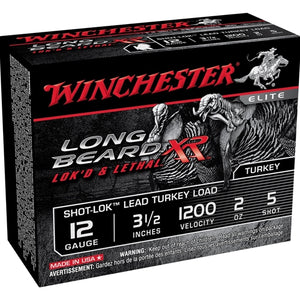 Winchester Long Beard XR 12 Gauge 3 1/2" 2 oz. #5 Copper Plated Lead Shot ammo review
offers the following information; Forty yards has long been the standard by which all turkey loads were measured. No more. It's time to go farther with Winchester Longbeard XR. Featuring new-to-the-world Shot-Lok Technology. Longbeard XR offers the tightest patterns and longest shot capability of any traditional turkey load in history - with twice the pellets in a 10" circle out to 60 yards. Longbeard XR has the knockdown power of popular heavier-than-lead loads at a fraction of the cost, meaning it's a turkey-slamming game changer for hunters looking to push the limits.
To millions of gun and ammo enthusiasts worldwide, the name "Winchester" means quality and high-performance by the most complete and versatile line of ammunition in the world. Winchester ammunition products have a long history of innovation behind them and have set the worlds standard in superior shooting performance. Their Winchester M-22 22LR ammo as well as many others calibers use advanced technology to produce high quality ammo for everybody. To stay competitive in today's market, Winchester uses their value pack ammunition to meet the demand of price conscious buyers. In the end, regardless of what the sport, game or circumstances surrounding you, you can always depend on every cartridge in the Winchester Ammunition line to perform - as promised.
Winchester Long Beard XR 12 Gauge ammo has 10% greater penetration over standard lead loads beyond 50 yards.

Devastating terminal on-target performance.


Twice the number of pellets in a 10" circle out to 60 yards.
| | |
| --- | --- |
| MPN | STLB12L5 |
| UPC | 020892021303 |
| Manufacturer | WINCHESTER AMMO  |
| Caliber | 12 GAUGE 3-1/2 AMMO |
| Bullet Type | #5 Copper Plated Lead Shot |
| Muzzle Velocity | 1200 fps |
| Muzzle Energy | ft. lbs |
| Primer | Shotgun Primer |
| Casing | Shotgun Casing |
| Ammo Rating | Hunting 12 Gauge Ammo |